Large Commercial Installation
Several years ago, we created a clerestory of fabric windows to allow light in and yet shield patrons in what is effectively an open air theater at the renowned Santa Fe Opera. A great curved ceiling high above the seating area reaches from the stage below to the back wall of the mezzanine.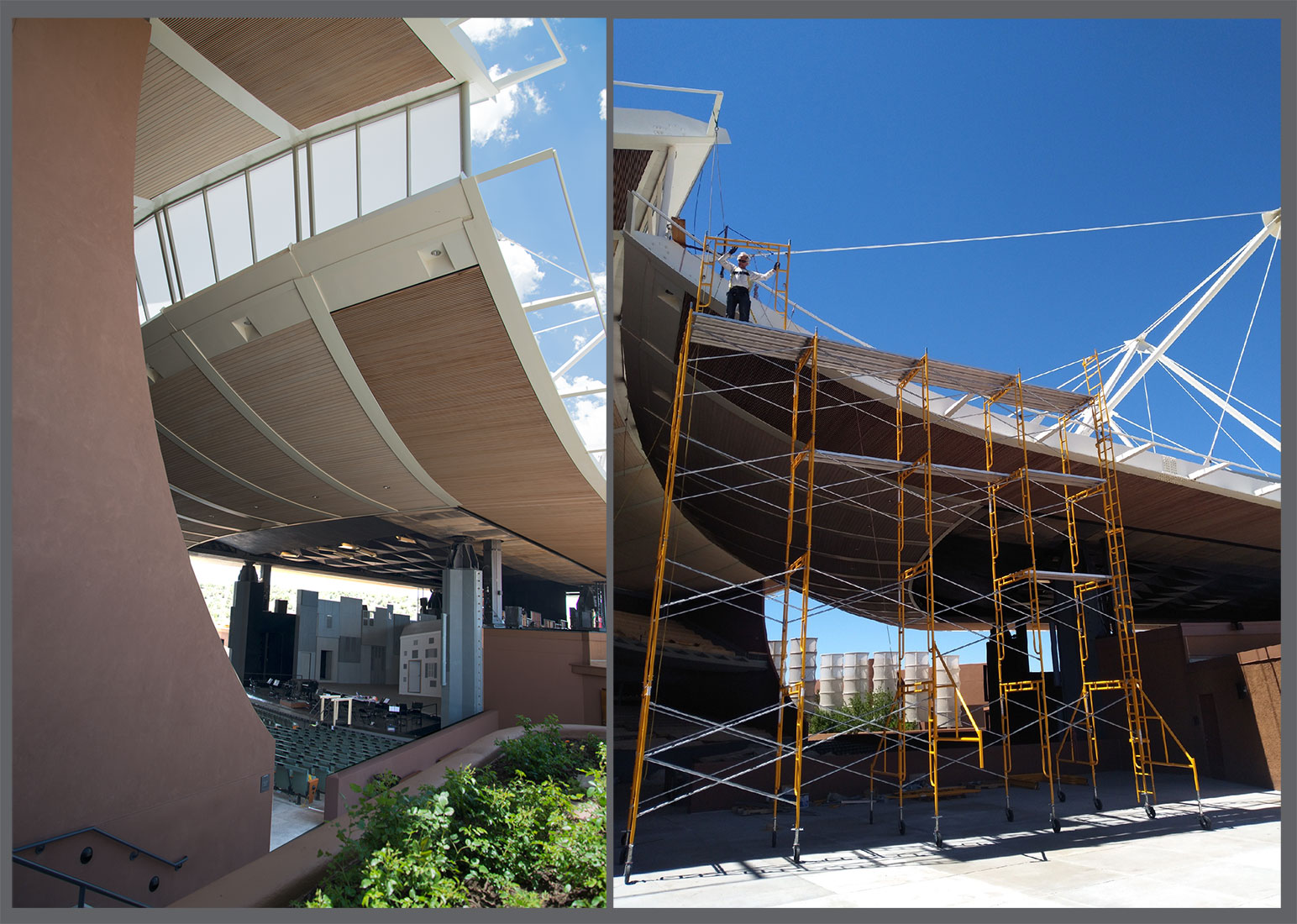 The seating area is open on either side as is the back of the stage. Structurally beautiful, the Santa Fe Opera is also vulnerable to the vagaries of weather in the high desert of New Mexico. While the climate during opera season in the summer months is generally hot and dry, it is also subject to summer monsoons that sweep in rapidly and occasionally violently. In addition, winds and the heat of the sun can make watching an opera or concert uncomfortable.
Originally, the installation involved hanging fabric along the curve, which shut out the wind and rain (and sometimes hail!) and mitigated heat from the sun before an evening performance. This past fall and winter, we removed the original fabric which had become worn over the years and needed replacing. Rather than repeating our original installation, we've changed up the plan a bit. This year, we've built window "frames" covered in fabric that are then installed in place of the original fabric. The result is a cost savings to the opera as much more of the work is done in our workshop and installation labor is reduced. Several years from now when the clerestory windows need replacing again, it will be a simpler matter of removing the window frames and taking them back to the workshop. There, each frame can be recovered more easily and efficiently, and in a safer environment. After the fabric is replaced, the windows can be returned to the opera and replaced in the clerestory. The result is a reduced cost to our client, and a safer and more productive environment for our staff.