Southwest Monsoon Protection
We love the rain in the southwest. In fact, we count on it for a good portion of the annual rainfall in the summer months. Winter snows in the mountains and throughout northern New Mexico count for much of the balance each year. But as anyone who has lived here for a year soon discovers, weather can come in with a blast and often does! High winds, dramatic temperature changes, downpours and hail are common, with ensuing floods and sometimes dangerous conditions.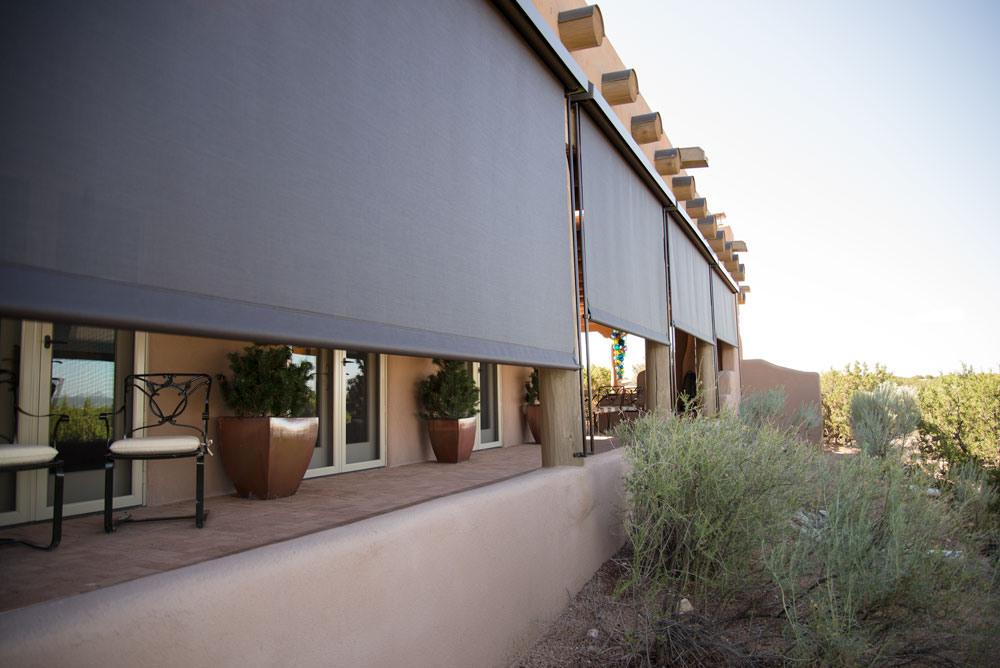 In the summer months from roughly late June or early July, and sometimes lasting until the middle of August, the monsoons arrive in the southwest. It is advisable to wind back retractable awnings in the afternoons to prevent potential damage to the arms from high or gusty winds. Fixed awnings should be securely mounted to the exterior walls during installation so that they don't shake or pull which can loosen bolts. Shade sails are constructed of breathable mesh fabric which will allow air and moisture to pass through thus reducing stress. Free standing shades sails should be mounted on sturdy steel poles sunk into concrete mounts in the earth. Partially wall mounted shade sails should be securely bolted to exterior walls just as awnings are.
Exterior screening such as our Santa Fe Patio Wind and Solar Screens™, should be rolled down and securely clipped at the base to prevent flapping and swinging in high winds. Like shade sails, the fabric is a mesh and will allow some moisture and air to pass through. Mountings should be checked periodically for integrity and professionally adjusted when needed. Regular maintenance checks, and repairs tended to before a small problem becomes larger will not only extend the life of your exterior coverings, but protect you and your home or business when you need it the most.