When summer draws to a close and the scents of fall are in the air we turn our focus to winter planning. Stock up on firewood, check the seals on windows and doors, remove dead plants from the flower pots and have furnaces checked and flues cleaned. Heating bills are added to household and business budgets, and for some business owners there is the potential loss of revenue particularly for the hospitality industry.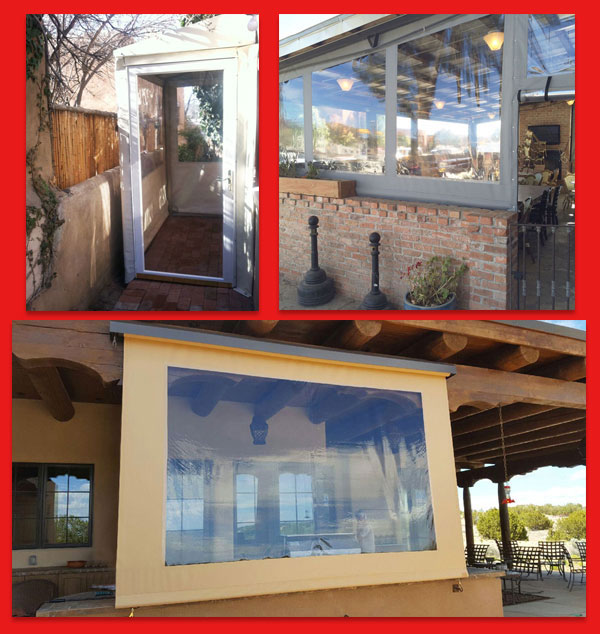 Homeowners can offset heat loss in the cold months by adding a mud room to high traffic entries, or install fabricated patio enclosures. The covered areas actually enclose an outdoor area attached to the home and create a protected bubble of warmer air, thereby reducing heat loss to the main house. A simple small "room" can be fabricated with doors and even windows over an entry where winter boots and even snow shovels can be stored. By enclosing a patio area in the same manner, that area becomes a room which can be used in the cold months as well. An enclosed patio, especially with south or western exposure acts as a solarium, and can be quite comfortable even on wintry days when the sun is out.
Restaurant owners are very familiar with seasonal loss of business, but by enclosing a seating patio used only in summer months, they can extend their busy season and increase annual revenues. In cold months, an enclosed outdoor seating area with heat lamps and a fireplace or fire pit is a very inviting spot for lunch and dinner clientele. In many cases, patio enclosures can be designed so that one or more sections can be set with windows or doors, and can even be flexible so that windows can be rolled up as the seasons change. Even in summer months, a panel or two of a patio enclosure can be left in place to protect from winds.